So we'd gone for fish and chips. *_* The place we went did amazing haddock and onion rings. Add tartar sauce into the mix and it was unbeatable. And as we left and entered the market place we went past this shoe stall with these 2 guys and as we walked by one murmured to the other cor, do you see her, she's a bit of alright. Me o___0 Dad was ambling behind me and said they were giving me a right oggle. At the time I was meeping with embarrassment but now it keeps cropping up and making me laugh. I was feeling a bit overly dressed while we walked about but it was lovely to know I could still turn a few heads in my old age. This simple little thing that happened might not seem much to some - I'm writing about it because I don't want to drop off the face of livejournal again and this is what's on my mind - but it's not something I hear often. Even when someone says they like me I tend to find myself thinking - really? It's nice to know that just because I don't look like most of the sheep out there these days I can be deemed attractive to some.

Anywho got a lovely dress. It's red. Very summery. lol though the cleavage does have my boobs sort of exploding out of it. XD Perfect for catching the sun on them! hehe That's what I want - a bit of sun on my boobs and the undersides of my arms. Lilly white they are ¬_¬ Oh hah and my legs. Heck I just want it to be sunny again. Even now I'm tucked up in bed with my microwaves heater on my lap and my electric blanket on to 3. I'm toasty warm and do not plan on leaving it unless I really have too. Alas my need to wash my hair will scupper these plans ¬_¬ I'm delaying and I know it. But I'm leaving my blanket on so It's lovely and snuggly for my grand return. Then I shall resume with my jewellery making. I got some new findings in the post today so going to play around with the glass dome designs to go on them. They are a new style so I'm interested to see what a smaller size (8mm) dome rather than the large (12mm and 14mm) I've been playing with looks like. I just love how every single design turns out differently. I've also been playing with stamping designs on the glass and seeing how that works out. It's hard to get it right but it's been fun seeing what happens.

Darn time's up - the shower head is calling as is one of the highland toffee bars I bought yesterday. WHEN was the last time you saw a highland toffee bar?! My face --> *____* As yummy as I remembered too! So lovely to see some things never change - even if the packaging might have.
I got called a bit of alright yesterday. XD We went to Knaresborough for the day, trying to outrun the bad weather that had been working its way towards us. It was still not exactly sunny there but it was a lovely warm day. I made the effort to dress up for the occasion and I've had a black maxi dress hidden away just waiting for an official unveiling. SO yesterday was it. Dad actually commented on how good I looked (But who believes their dad when they compliment you) and I have to admit my hair was particularly glossy *_* and I was working my fringe. (Still sooo glad that I had it thickened out the other week. I love it so much!) And spent the journey making sure my makeup looked up to scratch. XD Which doesn't mean I don't usually but was nice to have plenty of time to work on it. Knaresborough is a lovely little town. They have a load of sweet charity shops and antique where I can browse to my hearts content. Really the hoarder in me really comes out in these places! I was so tempted to buy a new green man head for the garden but was really strong and resisted. I did get The Song of Achilles though. Been eyeing it up for a while at work and got it for 75p ;) only for today the Orange prize to be announced and guess what won it. woot.
Currently memeTV:
I'm hooked on Grimm at the moment. Started watching it just because it amused me to revisit a modern Buffy. But it was running at the same time that Sky was being commandeered for other viewing. So if I caught a repeat that was fine but now we have Sky+ *__* which means as soon as Game of Thrones finishes it's straight to the planner for the next ep. woot. Second hook! Game of Thrones(Grrr should be called Clash of Kings) is on Atlantic and MUST be watched! I'm in for the long haul and loving every twisted moment of it - ESPECIALLY! this weeks ep. Epic! Am also really enjoying Once Upon a Time on 5 on a Sunday. I'm also watching a few Anime series. Aquarion EVOL, Hyouka, Zetman, Hiiro no Kakera, Kuroko's Basketball, Tsuritama, Accel World, Medaka Box or and Shining Hearts - Shiawase no Pan. 8 series. Eep. XD
Music:
I'm enjoying James Vincent McMorrrow's album Early in the Morning, especially his version of Wicked games. I've been trying to warm to the new Three Doors Down album but it doesn't settle the same as the previous 4 albums. And then there's Dir en Grey's Dum Spiro Spero. Though Uroboros still wins hands down. :) Had Avenue Q on lots too in prep for seeing it on Friday and that's been great. It always puts a smile on my face!
Food:
Tiramisu! I have a long running love of Tiramisu but Liz showed me how to do her version of it that hands down is the best I've ever eaten. So I gave it a go and YUM! Like I said before - I'm a die hard T fan so to be able to make it like Liz is so many thumbs up. Made it twice, second time in a lovely long/deep pasta bake dish and got it as perfect as I think I ever will. And next my plan is to try my hand in macaroons. We'll have to see how that goes.
Drink:
I've rediscovered my love of Vimto. When I first got my laryngitis I read up on what was best to keep away from and alcohol, fizzy pop and caffeine were on the don't list so I decided to yup them out as much as possible and started drinking lots of water. I'm now hooked on a good glug of Vimto to pep the water up a bit. Vimto ice cubes are great too!
Shop:
I still have a weakness for Fat face. The style of clothes there is very much me. It's so nice to finally look at clothes in a shop and find one after another that I like. Damn it being so expensive though! My other weakness is Sally Beauty. Yes this (Especially the Peterlee branch!) is such a tempting torment, stocking such a great variety of nail varnishes. Ok, so most shops that sell varnish is a weakness of mine but Sally usually has some sort of BOGOF/Half offer on. It's so hard to resist!
Brand:
I'm not a brands person. If I had to say what do I have the most of of anything... I'd have to say OPI. Yes - nail varnish. Surprise surprise. But I don't really care about names. If I like it I buy it. I really like Paperchase goodies but I don't think that counts. Oh I like White Stuff! Yes White Stuff! But alas the nearest branch is in York. ;__; Luckily there's Fat Face near work so that at least gives me my clothes fix. But yer - not a Brand girl really.
Toy:
lol! Ok so it's not so much a Toy but I have an app on my phone called Dragonvale. It's basically a wii fi access game where you log in and feed/breed a variety of dragons. This started with Tiny Monsters which I downloaded when I was off work sick to pass the time when I wasn't allowed to speak. I was feeling really low and trying to find things to take my mind off the depressing reality that I still had 2 weeks to go before I could talk again and came across this game. Which led to me then discovering Dragonvale. You can get all sorts of different dragons if you breed different types of scalies together and you have to grow crops to feed them so that their levels will increase. It's so stupid and I feel like a total kid playing it but I'm hooked. XD There's nothing I can do about it - but play on it when no one can see my shame.
Nails:
Currently I am alternating Collection 2000's BMX Bandit and Candy Floss on my nails and have decorated them with Models Own Balck and White liners to draw a detailed variety of tribal designs on them. See below :P And previously I was wearing Deborah Lippman's - Happy Birthday. Super sparkly! I'm very much a sparkly lady at the moment. If it shimmers/glitters it ends up on my nails.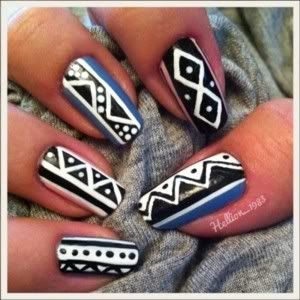 Will try and not make this the last update I do for the next 8 months.
■ I hate, and I do mean hate, to see people who have painted their nails and they have splashes of varnish over their cuticles and fingers. They've just left it there after taking the time to apply the polish and leave it to dry, with splashes and blobs of colour. And it does my head in! I mean - it's not like it's hard to solve. Get a cotton bud, wet it in remover and rub the offending varnish away. Done. Grrrr.
■ I don't like doors to be closed. They can be just touching the door frame, wood touching wood but I hate hate to have it actually closed. I can't settle and have to go and open it. When I get a flat of my own I'm tempted to remove all the doors in my place and hide them in the garage - till the landlord discovers what I've done and makes me put them back!
■ I hate having my nails done longer than 2 days. Once day two hits I start fiddling with my nails. I love painting my nails and letting them dry and decorating them but then another colour catches my eye and all I can think is - not long now, precious! Soon... soon you will have your turn. I think this also stems from the fact I hate chipped varnish. This should technically be
#4
but I refuse to have 3 quirks dedicated to nail varnish. XD Chipped varnish is not to be tolerated!
■ It's only been in the last year that I've gotten into cooking. Before then it was something to be look to in fear. Ask anyone who knows me reasonably well and they'll tell you - I'm super accident prone. So to put me in direct contact with things that could stab/burn/scald me is NOT a good thing. And yet I forayed into the world of bakery March 2011 and never looked back. And now I'm pretty darn good at it, if I say so myself. Would love to make a go of trying to make a living at it but I'm not sure how I'd feel after having to spend all morning/noon/night baking and flogging them. Still nice dream! And it's lovely to get all shiny eyed over a trip to Lakeland to look at the baking section rather than to get the same look over OPI's latest varnish collection. ¬_¬
■ I'm a complete book hoarder! I have hundreds and hundreds of them on bookshelves, piled on the floor - about 5 giant boxes stacked in the garage and hidden in the spare room all waiting to be read. If I see something I like I buy it knowing that chances are I'll forget what the book was I was recommended/saw so if I got it there and then it would be on the bookshelf for when I want it. Problem is that then there ends up being another book and another review and the previous book goes on the shelf to be ignored. I love a good charity shop find too. Finding an untouched book in a charity shop and getting it for £1 or so makes me very happy! It's like the ultimate bargain for me! Not so long ago I got a new copy of The Owl Killer by Karen Maitland for £1.50. And The Last Werewolf by Glen Duncan for 50p. Oh and a copy of The Hobbit for £1!!! But even if they aren't read for a long time I'm ok with that knowing that when I have my flat and am poor and hungry I will at least not have to worry about needing to find a good book to read (and try and block out the hunger pangs while reading!)
Tag, you're it.
Five Weird Quirks
Current Location:

bed

Current Mood:

slightly burnt

Current Music:

Italy - Eurovision Entry 2012 - L'Amore è Femmina
Day 1 - Red
Day 2 - Orange
Day 3 - Yellow
Day 4 - Green
Day 5 - Blue
Day 6 - Violet
Day 7 - B+W
Day 8 - Metalic
Day 9 - Rainbow
Day 10 - Gradient

Day 11 - Polka Dots
Day 12 - Stripes
Day 13 - Animal Print
Day 14 - Flowers
Day 15 - Delicate Print
Day 16 - Tribal
Day 17 - Glitter
Day 18 - Half Moons.
Day 19 - Galaxies
Day 20 - Water Marbled.

Day 21 - Inspired by a Colour
Day 22 - Inspired by a Song
Day 23 - Inspired by a Movie
Day 24 - Inspired by a Book
Day 25 - Inspired by a Fashion
Day 26 - Inspired by a Pattern
Day 27 - Inspired by a Artwork
Day 28 - Inspired by a Flag
Day 29 - Inspired by the Supernatural
Day 30 - Inspired by a Tutorial

Day 31 - Re-create your favourite challenge! Which was tribal but I decided to make it more complicated.
So here I go...
(
31 Day Nail Meme
Collapse
)
And I'm done - thank lordy. I need to now spend the next week treating my hands coz they are so buggered coz of all the remover I've been using.
Current Location:

bed

Current Mood:

geeky

Current Music:

Milk and Sugar - Hey(nah nah nah)
Day 1 - Red
Day 2 - Orange
Day 3 - Yellow
Day 4 - Green
Day 5 - Blue
Day 6 - Violet
Day 7 - B+W
Day 8 - Metalic
Day 9 - Rainbow
Day 10 - Gradient

Day 11 - Polka Dots
Day 12 - Stripes
Day 13 - Animal Print
Day 14 - Flowers
Day 15 - Delicate Print
Day 16 - Tribal
Day 17 - Glitter
Day 18 - Half Moons.
Day 19 - Galaxies
Day 20 - Water Marbled.

Day 21 - Inspired by a Colour
Day 22 - Inspired by a Song
Day 23 - Inspired by a Movie
Day 24 - Inspired by a Book
Day 25 - Inspired by a Fashion
Day 26 - Inspired by a Pattern
Day 27 - Inspired by a Artwork
Day 28 - Inspired by a Flag
Day 29 - Inspired by the Supernatural
Day 30 - Inspired by a Tutorial
Day 31 - Re-create your favourite challenge!
So here I go...
(
31 Day Nail Meme
Collapse
)
Though it is another nail post. Up to Day 25. Will be so glad when this is over - so close!!!!
Current Mood:

creative

Current Music:

Changed The Way You Kiss Me - example
Day 1 - Red
Day 2 - Orange
Day 3 - Yellow
Day 4 - Green
Day 5 - Blue
Day 6 - Violet
Day 7 - B+W
Day 8 - Metalic
Day 9 - Rainbow
Day 10 - Gradient

Day 11 - Polka Dots
Day 12 - Stripes
Day 13 - Animal Print
Day 14 - Flowers
Day 15 - Delicate Print
Day 16 - Tribal
Day 17 - Glitter
Day 18 - Half Moons.
Day 19 - Galaxies
Day 20 - Water Marbled.
Day 21 - Inspired by a Colour
Day 22 - Inspired by a Song
Day 23 - Inspired by a Movie
Day 24 - Inspired by a Book
Day 25 - Inspired by a Fashion
Day 26 - Inspired by a Pattern
Day 27 - Inspired by a Artwork
Day 28 - Inspired by a Flag
Day 29 - Inspired by the Supernatural
Day 30 - Inspired by a Tutorial
Day 31 - Re-create your favourite challenge!
So here I go...
(
31 Day Nail Meme
Collapse
)
Ok so it's been like a million years since I actually put something on here. I will try and be better in the near future. Anyway rather than just saying - I'm still alive, bye thought I'd update with the first half of them anime meme I've been doing this month. Every day I have to do something different on my nail. Hah will actually be kinda glad to have a bit of time wihtout anything on. XD Here's my list.
I'm about to make cake! Guinness cake and lemon meringue cupcakes. Wish me luck!
Posted via LiveJournal.app.
#2
they were perfect. Will be making them again for sure. Next considering doing cinnamon and raisin swirls. And maybe some empanadas that I saw made on Mums know best. Don't want to loose this interest I've developed. Shall see how they turn out like. Ohhh or maybe a cheesecake… XD
Todays success -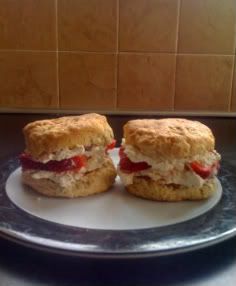 Yey! Om nom nom
Random note – I can see again. Managed to get my fringe trimmed when I popped to Hetton to get my Scone stuff. Yey. This makes me happy as it was getting ridiculously long.
At work tomorrow. Really don't want to go. *sighs*
I made scones and they were the nicest scones I've ever had. I may not have much experience cooking/baking but I'm so pleased with how successful I've been with what I've made. I'm going to try and make something every day off. So today I made plain scones with strawberries and cream. So yummy! The first batch were a bit small but
Current Mood:

full

Current Music:

Fragma - Take My Hand
Day 29 – Your aspirations
To find a job I truly love and find myself settled down happily in my own 2 bedroom flat in Durham with my Egyptian Mau, another cat I've adopted from a shelter, little cactus and maybe someone specially. I want to have mugs in the kitchen cupboard when we both prefer over all others.
Day 30 – One last moment
Getting Sam and Simba. I'd pestered my parents for years. Heck I used to buy every months copy of 'your cat' mag just to leave out as a hint to dad with post its in the pages with that cats I really liked. Finally when I was… 13? he relented and off we went to look about some catteries. We found this lovely ginger tom in the first rescue centre who as all purrs and kisses and nuzzles and was happy to stay in your arms all day. But we wanted to look about more so but a big tick on our list of cats we'd seen with his name next to it and went off on our next visit. We went to a private home where this lady helped the rspca with temp fortering and had a cattery at the back of her house. It was a cold day and as we looked in one of the mini rooms there were 2 black faces peeking out of a cat bed. The lady told us that they had been rescued from a house where they and their mother and other brothers had been abandoned with a Rottweiler bitch and her pup. And the only reason they found they were in there was because the mother cat was eating the lace curtains because she was so hungry. They were scared of humans (well pretty much everything) and needed a nice quiet house were people would just let them settle in.
We went to go get something to eat and talked bout the giner tabby and how he was wonderful, perfect but that he'd find a home in no time while the two black boys were much less likely too. I was torn coz I wanted a cat to snuggle with but then – I'd get 2 cats rather than one and surely they'd warm to us sooner or later. So off we went back to get our two boys. Can't imagine our house without them. Our two bookends we call them coz they sit on opposite sides of the windowsill like little reflections of each other. But wow it took so long for them to settle. They always hid behind the couch. Simba was so flighty and Sam just cowered under the Bureau all the time. I spent hours just lying next to it talking to him and offering him food scraps. Lol after that he seemed to come out of himself and decided I was his biatch. Though it took over 7 years for Sam to feel comfortable enough to sit on my lap. And he still can't let go enough to let you scratch his belly even though he clearly reaaally wants you too. Simba doesn't have that problem. Shameless hussy that he is.
If I look back and had the same choices again I'd go for Sam and Simba without a second thought. They may be total oddballs. But they're my oddballs.
My Sammy - look at that bald belly! Shocking! Ans Sims with his silver old man whiskers. XD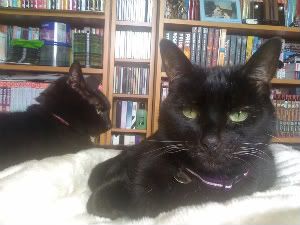 the end. XD
last 2. wow.
Day 28 – Something that you miss

Feeling like I've got a place. I used to think I knew where I belonged and what I was and meant to people but the last year or so has been a bit of a slap in the face now that I know that what I thought was all in my head. Funny part of me wishes I didn't know any differently and go on in ignorance as things used to be rather than keep on feeling as miserable and lost as I have been.